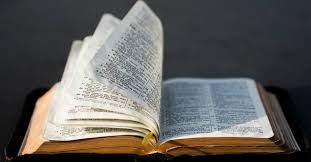 The adventures of a little lost Bible…
Approximately one year ago this Bible was lost on a spiritual retreat I attended. It was on crystal beach in Galveston. It was a beautiful weekend with about 30 other women, all there to share their experience, strength and hope, to glorify God and show gratitude for the sacrifice He made by sending His son Jesus to save the world.
It was about 20 to 30 days after I returned home that I went looking for it and couldn't find it. I panicked. My heart started racing. All of a sudden I couldn't breathe. I felt the tears welling up in my eyes. I tore the house apart including my car and the garage. It was no where to be found. Frantically I called my children and asked my son to come home and help me look. We continued turning the house inside out, all to no avail. Through prayers and sobs I continued to cry out to the Lord and tell him I was sorry that I was so negligent. I felt like I had been so irresponsible with the one material possession that meant more than anything in the world to me. I begged for forgiveness, for a miracle that He would find it and return it to me, but nothing. It felt like I was being punished.
For the next few months I continued to search homes of family members, friends and retrace my journeys, looking everywhere for it. Always, I came up empty. Finally I contacted a woman at the church who organized the retreat and pleaded with her to give me the property owner's phone number. Instead she text me that she had contacted them and they could not find it.
Another month went by when one day I received a text from her that they had found a Bible. I'll never forget it because I got so excited, was driving, and had to pull over. She said they would send a picture of The Bible and she would forward it to me. Well a couple of days went by when I received the picture but as I looked at it my heart sank, it was not my Bible.
As I slid into a funk over this tremendous loss, I pondered what my next move should be. Do I just let it go or do I continue to search? Another two to three months went by when I kept hearing this little small voice saying, "don't give up, it's there, you know it's there and you know exactly where it is". I decided it was time for me to take action.
I contacted the head of the women's ministry at the church and she was kind enough to give me the phone number of the home owner of the beach house. I called and left a message and wasn't sure if I would hear back. A couple of days went by and I received a text with a picture of The Bible that was not mine, the one that had previously been sent to me by the other woman that had been at the retreat and was trying to assist me. I gave this nameless and faceless phone number a detailed description of my Bible, letting her know my name was engraved on it. I described the cover, the room I was in and where it was in proximity to the living room in the house, and exactly where I thought it was, which was kicked to the head of the bed as I was packing that morning. That is the only thought that kept coming to me, "you must have kicked it and it slid up to the head of the bed". You see, it was on the floor with my shoes while my suitcase was on a little stand at the foot of the bed.
I gave as much information and description as I could think of and then completely turned it over, knowing in my heart that this was my last slim shot at any hope of ever seeing it again. I thought to myself, "if I'm lucky maybe I'll hear back in a week or two", but the bigger part of me thought, "yeah you'll probably hear back and they'll say they couldn't find it because who really wants to go look for somebody else's Bible!"
It wasn't even 24 hours later that I received a text stating, "the cleaning company found your Bible, give me an address and we will get it in the mail to you." I fell out. I couldn't believe it. I began to jump up-and-down for joy. I shook with excitement as I tried to dial my kids to relay this great news. Then I immediately text the head of the women's ministry letting her know. We all were in celebration together, the kids because they witnessed my suffering for a year and it was now over, and the head of the women's ministry because she heard the tension in my voice each time we spoke.
Now if you've read this far I applaud you. I know this is a long story but this Bible has been on a journey and I really wanted to share it. I'm also sure a lot of you are thinking what's the big deal, anyone can go out and buy another Bible. As a matter of fact my children bought me a new Bible and cover last Christmas. That's not it though. This Bible has 14 years of notes in the margin, different colored highlights on various scriptures with each color representing something different and personal notes, poems and messages all over the front and back cover. This is years and years of studying under Dr. Young, as well as Bible study with Dr. DeLoach and several other prominent leaders at Second Baptist Church which, by the way, God used to change my life. So if all of this was lost, there is no way I could have ever replaced these notes, these personal messages, and all the love and learning that the last 14 years have brought to me.
It is back. It has arrived. It is safe. And it is a miracle. I believe there are many lessons here but the one that I want to leave you with is NEVER GIVE UP, believe in miracles and know that with God all things are possible.
Love and blessings to all of you on this awesome day, the Lord's day.
Will You Help Spread Fran's Message of Hope?