Book Reviews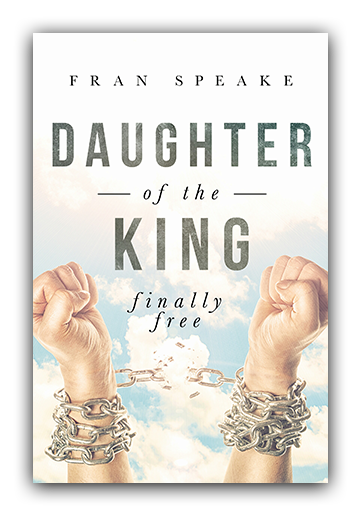 "I couldn't put Fran's book down once I began reading. It took "guts" to write this story and I could see God's hand on her and with her all through the pages."
Dr. James DeLoach, Senior Pastor, Houston Second Baptist Church.
---
"Yesterday, I had the fortune to read a book authored by Fran Speake, the sister of Rody Speake, who I've known ever since I moved to Alief with my family in 1970. The title is Daughter of the King, and it's an introspective look into Fran's life, a life beset by dysfunction in her own family, drug abuse, co-dependency and failed relationships. It brought back a lot of fond memories of the Alief we all grew up in. A place where we could be safe and secure, though Fran learned once that you had to be careful when making friends with people you didn't know. It was painful to read at times, as it brought back a lot of memories of my own family and the problems that went on in it, along with realizing my own personal struggles in my life mirrored those of Fran, in many ways. Fran spoke from her heart when she wrote this book. It takes an enormous amount of courage to chronicle one's life, and all it's ups and downs (a lot more downs than ups), and put it out there for everyone to see. But the courage it takes to admit one's shortcomings, and see why the choices we make in life have a domino-like effect on the outcome we end up with, is something not all of us tap into- maybe never. Fran's need to be loved, Maslow's third need in the order of hierarchy, propels her in many different directions, from the time she was a teenager, until now. Looking for love, needing to be loved- such a basic need that can be so very hard to attain for some of us, when we have the background that Fran has. Growing as a person throughout her life of hard knocks hasn't been an easy ride for Fran, but through support groups and guidance back to the church that she abandoned while making this journey, she has literally come full-circle, and is at the end of the book seeing herself in a much more confident, endearing light than she ever has. They say there are no coincidences in life, that all things are put before us for a reason, and I wholeheartedly believe that. After all the years of struggles, Fran is given a miracle on her first day at a new job. The miracle of forgiveness, through the caring for a young man whose father had, by his judgments, made a living hell of Fran's life. This young man was truly a miracle for Fran to have in her care, and I've never seen or heard of a better case of divine intervention than this. Just unbelievable that two stars could cross in each others paths like this. Astronomical odds against it happening. I was moved beyond words reading about her journey, and felt her pain as she stumbled so many times down the dark, forbidding endless pit to get to where she is now- a giving, loving and gracious human being who has played the hand of cards she was dealt in life, and made the best of it. Her walk with God on an everyday basis now is truly inspiring to me, and though life may still give Fran, and all of us for that matter, more bumps along the way, she now has the intestinal fortitude to handle whatever may come her way. And, she realizes that her strength, her inner resolve, that she's had to tap into countless times throughout her life, is God driven, and she will be able to handle anything, because she has let go and let God. I recommend this book to everyone to read. I sincerely hope that not only my friends, but people everywhere, get the chance to read it. We all need to be inspired in life, and having someone that came from our mold bare her soul to the world in hopes that it will help others is a testimony to God's love for all of us. We truly are sons and daughters of The King, and I thank Fran for reminding us all of that fact."
Mike Swain, The Woodlands,TX.
---
"The author quickly lets us, the reader, into the many secrets within the pages of this book, Daughter of the King: Finally Free. Secrets of hidden truths, betrayal and struggles with addiction. Is it possible to come out on the other side of so much pain?
It was with absolute excitement that I embarked on reading Fran Speake's book, Daughter of the King: Finally Free. The book holds similarities to my own life, as we grew up in the same community, at the same moment in time. Fran has embraced this book with rigorous honesty, courage, love and compassion. Daughter of the King will make you think about faith and religion, but mostly Fran lets these questions flow naturally for the reader. Daughter of the King is a quick read and I finished it in a couple of hours. I can't remember when a book actually made me cry, but while reading Daughter of the King, I cried.
I highly recommend this book to anyone that may have experienced rough beginnings, current turmoil, who perhaps questions their faith, or just needs a little inspiration. It is a worthwhile pick for anyone who wants a true and honest thought provoking story. The reader will experience the author's journey of determination, passion and insight, as she is empowered to transform into the woman she is today. I am looking forward in anticipation to the next book!"
Tammye Elliott, Alief,TX.
---
      "In Daughter of the King, Fran shares her personal account of childhood divorce and a sense of loss that sent her looking for love as she tumbled down a long road filled with tumultuous relationships, failed marriages, drug addiction, unimaginable trauma, and more – and finally discovering GOD's love, practicing forgiveness, and receiving HIS healing.
      This book is a page turner – awakens every emotion – crying, laughing, and a big HELL yea!!! It gave me much needed insight into understanding loved ones with drug addiction. A must read if you have a loved one or know someone with an addiction. I am so proud of you and how your life has turned around for the better."
Brenda D., Kingwood,TX
---
      "Other than reference manuals, I have read only 2 books in the last 5 years – Murgerby Family and Daughter of the King: Finally Free. Both times I started the books and read them straight through in less than 6 hours. So, here are my thoughts:
      Daughter of the King: Finally Free is a great read, specifically a very telling story about a disturbed young woman who works through her pain and past and emerges clean and sober. A woman who loves GOD and life and isn't afraid to tell the world. She tells it like it was and then tells you how it got worse. The parties with Rock Stars (I'm not going to give the name away), the drugs and alcohol, bad choices and then, like a beautiful butterfly, emerging out of a stranglehold of a cocoon. A beautiful story, well written and a great read with a cup of coffee and a warm fire in the fireplace."
William Walla, Anchorage, AL
---
      "What a book, I could not put it down. I could see GODS work all through the pages. I know this book will be used to help others become free."
Roy West, Houston,TX.
---
      "I have read Daughter of the King and found it honest, moving and full of raw emotion…Fran Speake opens herself up to the world in a way many people would not have the courage to do. You will laugh and cry while reading her book.
      It is a story of trials, tribulations and of victimization and betrayal by people, society, law enforcement and even our court system. But Fran comes out a VICTOR; not a victim and she demonstrates that with GOD any and all obstacles thrown at her she can and did over come.
      This book is a page turner and a true testimony to the power of GOD'S love."
Rody Speake, Houston,TX
---
      "I could not stop reading this book. I loved the rawness and extensive detail on your personal history. You are so vulnerable when you are open and honest. The experiences that you shared are unique and interesting. I was completely fascinated by this book."
Jayne Lawler, Houston,TX
---
"I read a lot of books and this is a great book. I couldn't put it down. Fran definitely has a gift."       Karen McCright, Houston,TX.