About Fran Speake's Book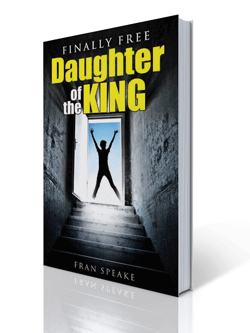 S
ometimes gifts can come in very strange packages, and they can also take a person's breath away while they stagger from the daze of discovery.
Author Fran Speake unwrapped her present, and is now sharing it with the world.
In her memoir, Daughter of the King, Fran takes readers through the shocking day that forever changed her, and the many tragedies she has experienced on her path to something amazing.
Fran's journey, which includes a difficult childhood, marrying into the family of a famous rock band, and a divorce that taught her that justice and the court system don't always go hand-in-hand, is tumultuous and heart-breaking at times, but finally leads her out of a life of misery and pain and into the shining light of God's Grace.
Through some very unlikely channels, the author finds her way from deep despair to final true contentment. Upon realizing that she was witness to supernatural power, her life has been forever transformed. Anyone who has felt lost, left, or abandoned will benefit from Fran's heart-wrenching, but ultimately victorious, tale of self-discovery.