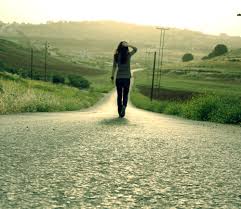 Do you feel alone?
As we enter Holy week, I wanted to blog about something that has been on my mind for a while. But first I want to share an excerpt out of the Gospel of Matthew Chapter 26 verse 36-46.
     Then Jesus went with his disciples to a place called Gethsemane, and he said to them, "sit here while I go over there and pray." He took Peter and the two sons of Zebedee along with him, and he began to be sorrowful and troubled. Then he said to them, "My soul is overwhelmed with sorrow to the point of death. Stay here and keep watch with me."
     Going a little farther, he fell with his face to the ground and prayed. "My Father, if it is possible, may this cup be taken from me. Yet not as I will, but as you will."
     Then he returned to his disciples and found them sleeping. "Could you men not keep watch with me for one hour?" he asked Peter. "Watch and pray so that you will not fall into temptation. The spirit is willing but the body is weak."
     He went away a second time and prayed. "My Father, if it is not possible for this cup to be taken away unless I drink it, may your will be done."
     When he came back, he again found them sleeping, because their eyes were heavy. So he left them and went away once more and prayed the third time, saying the same thing.
     Then he returned to the disciples and said to them, "Are you still sleeping and resting? Look, the hour is near, and the Son of Man is betrayed into the hands of sinners. Rise, let us go! Here comes my betrayer!"
Think about this, at the worst moment in Jesus' life, when he needed his team and supporters the most, they failed him. They all fell asleep. Even after he chastised them, when he returned a second and third time, they were asleep again. I have a feeling Jesus felt utter disappointment, however he had work to do and it was going to be done.
Do you feel alone? Do you feel that the people in your life are letting you down? Do you feel you have no one to count on, even when you ask? I think we all feel this way at different times in our lives, sometimes stronger than others. But here's the good news, even though our family, friends, and even spouse will let us down, there is one who will never let us down, one who promised he would never leave us, God Almighty. Moses told us in Deuteronomy 31:6
     "Be strong and courageous. Do not be afraid or terrified because of them, for the Lord your God goes with you, he will never leave you nor forsake you."
And at the end of the 28th chapter of Matthew, Jesus said,
    "And surely I am with you always, to the very end of the age."
There are many times in our lives when we clearly have to walk alone, with no other human around us. It gets scary. It gets lonely. It gets frustrating, especially with spouses because we make promises to each other. But if you can remember you really aren't alone, ever. Jesus/God is always right here. Talk to him, tell him what you need, what you desire, share with him your pain, ask him what to do. I guarantee you will never be let down. And remember Jesus too suffered that feeling of being abandoned by the ones he thought he could count on the most, however he didn't let that deter him from the Father's will.
Remember you are a child of God, you are a son or daughter of the King and He loves you so much. If I have any message at all, it is that no matter what has happened to you, God loves you and desires a relationship with you. I hope you will reach out to Him now.
And on this Holy week I will leave you to ponder, What is your cross to bear?
Be blessed friends,
Fran
Will You Help Spread Fran's Message of Hope?